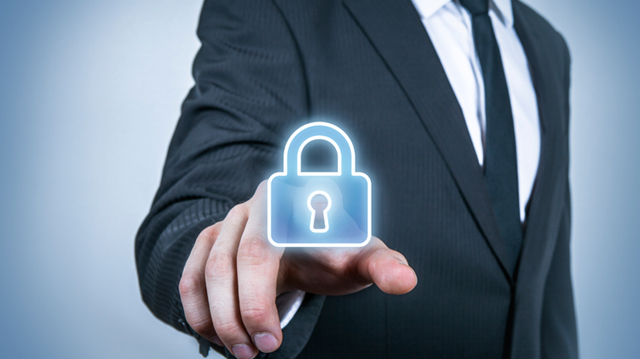 Security
We provide easy-to-understand support for the often complex area of information security measures, from explaining the current situation to formulating specific measures and training users.
POINT1
Support for understanding information security status and formulating policies
POINT2
Support for developing and implementing specific entry-/exit-point information security measures as well as internal measures
POINT3
Provision of security training and testing for IT users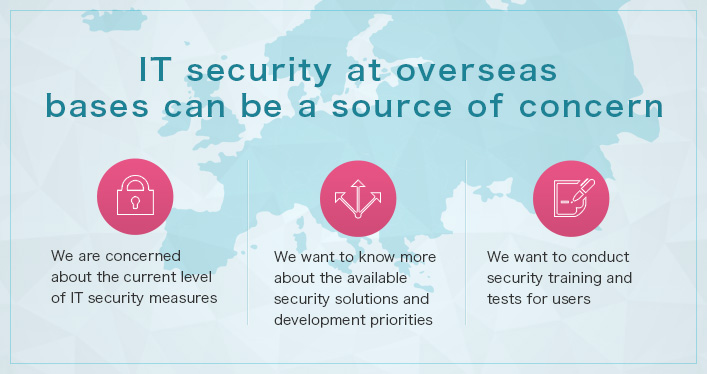 Analysis of current status of information security
Different businesses need different information security measures.
'It's not a large-scale site, but it handles sensitive confidential information.What kind of measures do we need to put in place?'
'Europe is a multi-site, multi-lingual business environment, and we do not have a clear picture of whether information security policies are in place or how secure device settings are at each site.'
'We are supposed to have some security measures in place, but we don't have any full-time IT staff so we're not sure about the details'
'We've heard about "targeted attacks" – are our security measures able to cope with them?'
These are just some of the concerns clients may have.
We provide information security health checks to identify infrastructure vulnerabilities as well as assistance in formulation information security policy, enabling you to verify and analyse the measures in place and establish policies for improvement.
Information security measure proposals and implementation support
Information security measures involve a combination of people, processes and IT.Where IT is concerned, we propose information security measures and provide assistance implementing them.
Entry- and exit-point measures
To strengthen your security measures, we implement a multi-layered array of solutions at the boundary between the company's IT environment and the external environment, including firewalls, IPS/IDS, WAF, UTM, next-generation firewalls, web filtering, spam filters, application control, and DDoS support.However, these security measures can also entail trade-offs in terms of IT convenience and costs, so it is necessary to assess the information assets and risks to be protected.
Internal Measures
Now that ordinary companies are the subject of targeted attacks, it is difficult to completely avoid threats using only the entry-/exit-point measures mentioned above.We also help clients implement internal countermeasures through internal threat visualisation services that can identify threats that have already gained entry, security health checks that adjust device settings and operations, and information encryption.
Information security training
This focuses on the 'people' part of the three elements of information security – people, processes and IT.An extremely important element of countermeasures against targeted attacks is the regular training and testing of IT users in security matters, via both on-site training and e-learning.
Contact Us
from Phone
+44(0)20-8782-1920