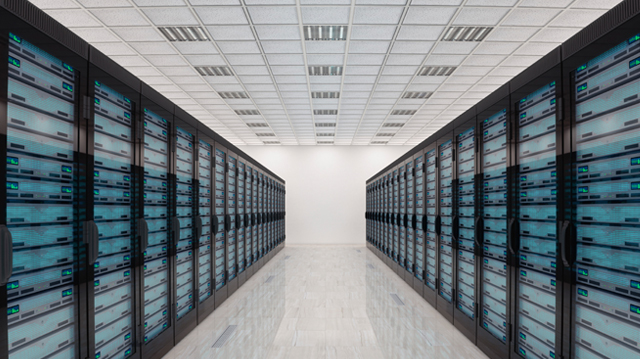 IT infrastructure integration
We offer proactive support for the design, development, operation and maintenance of IT infrastructure to enable the reliable use of IT at European sites based on technical and management experience.
POINT1
IT infrastructure integration service with technology + management capabilities
POINT2
Operation and maintenance services that also include medium- and long-term IT environment improvements in their scope
POINT3
Wide range of technical capabilities from PC/server environment development and cloud usage to video conferencing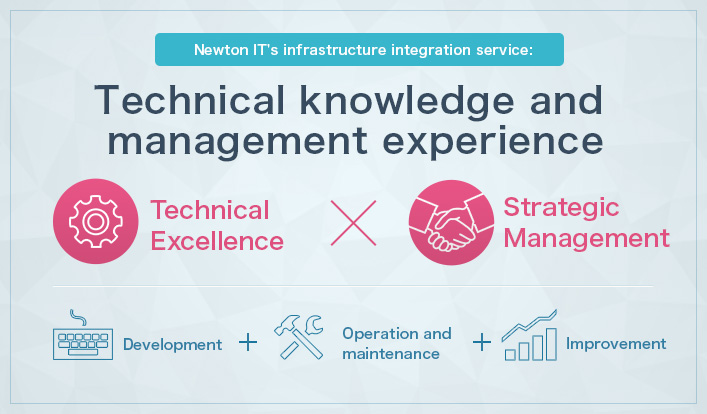 We offer infrastructure integration service offers based on our extensive technical knowledge and management experience.
From the development of IT infrastructure to operations and maintenance support for European sites, we support clients with management capabilities backed by technology that goes the extra mile. We not only offer technical support or troubleshooting, but also liaise with the client's related departments and third parties to provide operational support that enhances your IT environment.
Management capabilities
'If we were your IT manager…'
This is the service concept behind Newton IT's infrastructure service, which was designed to support the development and operation of IT infrastructure for Japanese companies in Europe.
Most Japanese companies operating in Europe have small and medium-sized offices, with those responsible for IT often also handling other tasks and few companies with dedicated IT staff.
To manage such situations, companies need a management system that can implement projects while proactively working with other departments and affiliated companies, just like an in-house IT manager.
When it comes to operation and maintenance services, periodic mid- and long-term improvement proposals are integrated into the service cycle, allowing us to provide services that go beyond mere troubleshooting. For companies with a limited number of IT staff to manage control at their European sites, we offer European IT management support, using service management systems to manage progress in analysing and improving the status of your support.
Technical knowledge
Cloud, server, client
Cloud solution
Service / Solution
Service overview
Implementation and development of Hosted Exchange, Google Apps, Office 365

We help you migrate from your current mail service to Exchange or develop a system from scratch
We work to enable you to migrate to and develop your use of Google Apps and Microsoft Office 365 services

Implementation of Amazon Web Services (AWS), Rackspace, and Azure cloud services

We provide design and development services for major cloud services such as AWS, Azure, Rackspace etc.
Our services range from migration of your existing environment to operational support

Development of private cloud environment

We can develop a private cloud environment tailored to your own scale, wishes and requirements.
Our services range from migration of your existing environment to operational support

Remote backup service

We ensure that your data is backed up in a dedicated environment built into the data centre.
We constantly monitor and confirm the status of the backup
Server design and development service
Service / Solution
Service overview
Design and development of servers and storage

Design and development of Windows, Linux, UNIX servers
Virtualisation using VMware, Citrix XenApp and XenDesktop
When designing and implementing servers and storage, we take various requirements into account, such as reliability, availability, scalability and operational requirements
Main brands
HP, Dell, IBM (Lenovo) etc.
Development of client environment
| Service / Solution | Service overview |
| --- | --- |
| PC/peripheral equipment sourcing, set-up, installation | We adjust your configuration based on your usage environment |
| Image development | We create an image of the client PC that matches the customer's environment and efficiently deploy it across many PCs. |
Network
Service / Solution
Service overview
Installation of optical fibre line, EFM, ADSL

In Europe, the fibre penetration rate is currently lower than in Japan.Options such as EFM (Ethernet in the First Mile) and FTTC (Fibre to the Cabinet) provide an intermediate service between optical fibre and ADSL.
Our support ranges from carrier selection to contract procedures, installation arrangements and checks.

Network environment construction

Through a combination of routers, firewalls, L2/L3 switches, Wi-Fi (wireless LAN) remote access devices and so on, we construct an optimal network environment
This is designed and implemented in accordance with the client's security standards or in our recommended configuration
Our design and implementation ensures the optimal configuration of your business and network usage environment
Main manufacturers used
Juniper, Cisco, HP, WatchGuard, FortiGate etc.
Support for relocated or newly opened offices and factories
Service / Solution
Service overview
Project Management

IT-related setup and relocation will be discussed with the client from the planning stage onwards, including scheduling and progress checks in the areas of survey/analysis, planning/design, and construction/relocation
We offer adjustment and schedule controlling for transfer and new development projects involving a wide range of vendors

Internet/communication line configurations, LAN cabling

We support you with everything from ISP/carrier selection to data and voice communication line configurations and implementation
We install a local area network (LAN) that is tailored to your office environment

Installation of telephone equipment (PBX, handsets)

We help you install telephone equipment (PBX, handsets) based on your business requirements
A cloud-type service (Hosted SIP) that doesn't require an in-house PBX (telephone switchboard) is also available upon request.

IT equipment relocation and set-up

Upon request, we can remove the client's existing equipment, install it at the new location and set it up for use.
Operation and maintenance
Service / Solution
Service overview
IT helpdesk service

We provide support for a wide range of issues, whether you have a problem or fault that needs fixing or a question that needs answering
The service management system enables you to check the progress and history of issues raised

European IT management support

Working with IT bases and departments in Europe, we help you control and manage your European IT systems as needed
Issues will be discussed at weekly and monthly meetings

IT health check service (regular or 'spot')

Comprehensive, high-quality periodic diagnosis based on best practices, including a report and suggested improvements

Outsourcing of IT infrastructure operation and maintenance

Our outsourcing service offers the operation and maintenance functions of an IT department while ensuring stable operation of your IT infrastructure in coordination with the IT department of your base or head office.

One-off, long-term or periodic visits by IT engineers

Engineers with the optimal skill set provide one-off, long-term or periodic on-site support according to resource requirements, whether that means operation, maintenance or project support.

Call centre operations

Offering bilingual support and responding to client needs with a combination of best practices

Operation and maintenance of public and private cloud services

We offer operational and maintenance services for cloud-based IT infrastructure, whether public or private.Services are launched after designing and verifying operation and maintenance in accordance with client requirements

System monitoring service

We use a monitoring system to monitor your IT infrastructure and enable its stable operation through prompt notification and response whenever anomalies are detected, implementing measures to prevent faults before they occur, and optimising system resources.
If anything abnormal occurs, we notify you and respond to the problem.
Other services relating to IT infrastructure
| Service / Solution | Service overview |
| --- | --- |
| We help you implement all types of web conference and video conference | Conference systems are a vital communication tool. We provide Europe-wide support, from selecting your system to installation and maintenance. |
System / data linkage solution
Systems linkage
| Service / Solution | Service overview |
| --- | --- |
| Consulting and development | Our consultants will help you achieve seamless system linkage, from product selection to development. |
Data link tools
| Service / Solution | Service overview |
| --- | --- |
| HULFT/EDI | We help you introduce and design various data linkage tools such as HULFT, which has a high market share in Japan. |
Risk management services
Business Continuity Plan (BCP)
Service / Solution
Service / Solution[1]Service overview
BCP formulation support

We help you formulate your BCP by considering your business characteristics and the impacts on business in the event of an emergency
We enable you to implement regular practice drills in accordance with your plan
Security related services
Service / Solution
Service overview
Security policy planning support

From security policy planning to auditing services, we support you in accordance with best practices

Penetration test

We conduct external penetration tests and internal threat assessments
We report the test results to clients in an easy-to-understand manner

Security-related training services

We help you produce e-learning content and develop an educational website in accordance with your security policy
We carry out on-site information security training to ensure full compliance

Security-specific IT infrastructure health check

Our engineers conduct setting reviews and operational checks with a focus on security
Specialising in the field of information security, they conduct setting reviews and operational checks on your IT infrastructure
Contact Us
from Phone
+44(0)20-8782-1920
Related information
Client Profile Major Japanese machinery manufacturer. 10 European bases. Consolidated sales of around 100 billion yen. Service overview Providing integrated IT support services for all European bases and assisting in a wide range of areas, from managing, operating and maintaining the European network, IT equipment (servers, PCs, printers, network equipment)...